Call To Schedule Your Appoitment
(323) 734 – 9600
Se Habla Espanol
Braces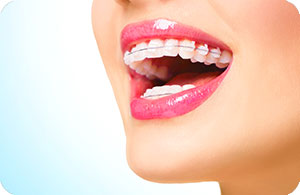 Dental braces are used to correct a person's bite, misaligned teeth and jaws. Many people have dental braces as children or teens, they can be applied later in life, too. Our expert in braces in LA County Dentist recommends dental braces if you have:
An overbite

An underbite
Crooked teeth
Widely spaced teeth
Crowded teeth
An uneven bite caused by other jaw alignment problems
Braces consist of bands, brackets and wires. The bands, which are generally made of steel or titanium, fit around the molars. Brackets are bonded to the premolars and front teeth. They are generally made of steel, titanium, ceramic or other materials. These brackets are designed to be tiny and discreet, and the ceramic brackets can even be made to match the natural color of the tooth enamel. The arch wire is made of steel or a blend of copper, nickel and titanium. It's attached to the bands and the brackets. Our expert in braces in LA County Dentist may also recommend elastic bands, which increase the tension between the upper and lower teeth to better align the jawbones.
Braces
After the braces have been placed, our LA County Dentist braces expert will make regular adjustments to move the teeth into proper alignment. Adjustments put pressure against the teeth to shift them gradually. The jawbone then adjusts to new positions of the teeth by making new bone to hold the teeth into position. This process may be uncomfortable, but the discomfort can be easily alleviated with pain relievers.
Maintaining optimal dental hygiene during treatment with braces is critical to keeping your smile clean and healthy. The brackets and wires can give plaque and bacteria more places to grow, and you may be more prone to tooth decay and gum disease. Brush after each meal, and floss every day. You may need special flossing tools called threaders to get the floss between the teeth around the wires. Our LA County Dentist braces expert may provide you with additional instructions for maintaining your braces and keeping your smile healthy.
Contact our dentist in LA County today to learn more or to schedule a consultation.