Call To Schedule Your Appoitment
(323) 734 – 9600
Se Habla Espanol
Kids Dentist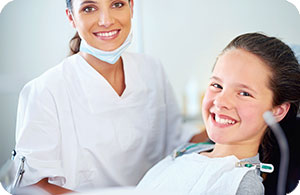 LA County Dentist specializes in general as well as kids dentist treatments. Our staff is dedicated to making each kids trip to the dentist office a wonderful, happy experience. When kids have positive influence with visiting the dentist, they are more likely to come in for regular dental cleaning checkups throughout their life and have better overall dental health. At LA County Dentist, we know that having a great experience is critical for a lifetime of great dental health. This is why our staff specifically caters kids dentist treatments to our children patients through a kid-friendly waiting room with toys and cartoon movies, a tell-show-do approach to kids dental treatments, and a positive reinforcement reward system that encourages great behavior.
Our kids dentist team includes Dr. Farzin who are the residentdentist and orthodontist on the LA County Dentist staff. Dr. Farzin is a gentle, caring doctor who has been a kids dentist for the last ten years. Dr. Farzin takes special care while treating kids by always engaging them during the treatment, talking to them and explaining the treatment in a soothing manner, and educating them about proper dental care practices. At LA County Dentist, we believe that kids should have fun at the dentist, and our thousands of young patients can attest that we do just that. Kids are told about the dental treatment that will occur in simple, easy to understand terms by one of our friendly dentists. Once the young patient understands what is about to happen and feels comfortable with the situation, the actual treatment can be performed.
Prevention still is the best approach to this date for children dental treatment. At LA County Dentist office recommend a dental check-up for most children every six months. Due to risk increase of tooth decay in some children, we will schedule accordingly to the best measures of prevention. Regular dental visit help your child to become cavity-fee. Tooth caries is not the only reason that your child should visit our office. But we may recommend in office fluoridation, or sealants of the teeth for having stronger teeth.
Doctors at LA County Dentist review your kid's dental and medical history, then, a gentle examination of the soft tissues as well as teeth will be completed. Your child's dentist will clean and polish the teeth and fluoridates the teeth by application of fluoride solution. The doctor won't talk just to you about dental care, he or she will discuss to your child one on one to teach them proper hygiene. One of our goals is to teach your child to take responsibility for healthier teeth and oral health.
At the LA County Dentist, we make you aware of some easy steps toward a good dental health for your child. These steps are including:
1- Awareness of what they snack on
2- Brush in the morning after breakfast and evening after dinner with toothpaste.
3- Floss at night
4- Keep up with your twice a year dental check up.
5- Make sure of enough fluoridation of child's teeth by using of fluoride products, fluoride supplements or through drinking water.
Most young patients are comfortable, calm and confident in LA County Dentist office. Our office is designed for your children and we have 10 years of treating kids. At the LA County Dentist office we have provided dental treatments for many children and parents. However, sometimes a child patient may become anxious during or before the dental treatment. It is in this case that child patient may need Nitrous oxide/Oxygen to help the patient to calm the fear of dental visit. Also, this would increase the effectiveness of the communication. Plus, Nitrous oxide/Oxygen would decrease the gag reflex in some child patient with dental treatments.
We provide a calm, comfortable, friendly, happy atmosphere at LA County Dental office for your child. This will ensure a long life positive approach to dental treatments and prevention.