Call To Schedule Your Appoitment
(323) 734 – 9600
Se Habla Espanol
Family Dentist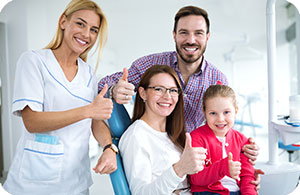 LA City Dentist is the top family dentist group in the LA County. Our
family dentists
have decades of dental care experience and acquired the necessary credentials to give the best possible treatments. At our family dentist clinic we successfully treat a wide range of dental care concerns ranging from checkups and cleanings to complicated periodontal surgery, orthodontic procedures and cosmetic dentistry. Our
dentist
team includes Dr. Farzan who has been a practicing
family dentist
for over a decade, treating both children and adults for all general dentistry issues including cavity prevention, fillings, root canals, scaling, tooth extraction and treatment of periodontal disease.
For orthodontic treatment, Dr. Farzan provides friendly, comprehensive and competent dental care for children and adult patients. As an experienced family dentist and orthodontist, Dr. Farzan is also well-versed in the latest options for braces for all ages, including low-friction metal braces, ceramic braces and Invisalign, the invisible plastic tray braces. Each patient's case is individually assessed and a course of treatment is recommended to best align the teeth and create a beautiful, natural smile.
Aside from braces, other popular treatments available with our family dentist team include restorative dentistry and cosmetic dentistry. Growing older, taking care of our teeth becomes increasingly important for overall health. Without regular visits to the dentist to maintain optimal oral health, adults can unwittingly set themselves up for complicated dental problems later in life. When this occurs, our family dentist team can diagnose the issue using our cutting edge dental care technology and will use restorative dentistry techniques to rejuvenate the teeth and gums to a state of health. Bridges, crowns, partials and dentures are part of our family dentists' repertoire for tooth restoration, as well as advanced cosmetic dentistry techniques like whitening, veneers, bonding and inlays or overlays. With over 15,000 happy patients in the Los Angeles area, LA City Dentist is the place to go for quality family dentist treatments.
Family dentistry has always been one of our greatest concerns at LA County Dentist. Family dental health plays a very important role in total personal hygiene. Oral and dental problems can lead to a lot of health problems. These problems are quite costly to cure, but can be cured, or completely prevented, with less hassle at an early stage through high-quality family dentistry. Having unhealthy teeth has a lot of disadvantages, not just on personal hygiene, but on personality and confidence as well. It can also greatly affect the hygiene of all family members and even change their lifestyle. Several bacterial problems caused by unhealthy teeth can affect the entire body and immune system, which in turn can spread through the family and affect other family members.
At LA County Dental we pay close attention to family dentistry and understand the importance of treating and educating all family members together. We use state-of-the-art equipment and even have dental equipment exclusive to children. Our environment is kids friendly and we make sure they are comfortable and fear-free at our clinic. Furthermore, all the family's dental needs are met at LA County Dentist. We have specialists in general dentistry, cosmetic dentistry, restorative dentistry and pediatric dentistry, orthodontist (braces specialist), periodontist (gum specialist) and endontist (root canal treatment specialist) and all the staff is well-educated and experienced