Call To Schedule Your Appoitment
(323) 734 – 9600
Se Habla Espanol
Pediatric Dentistry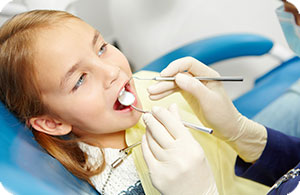 Wonderful oral health practices should be instilled in childhood and continue throughout an individual's life. Character and habits established at a young age are imperative in maintaining good oral hygiene throughout your child's life. With your assistance and regular care, your child can grow up cavity free and keep their teeth for the rest of their lives.
At LA County Dentist, we believe in providing this care to your children in their early years. We can see your child as early as year one. Dr. Farzin has ten years of experience in dentistry and over five years concentrating in pediatric dentistry promoting business continuity.
We have special facilities to teach your kids. We ensure that your child enjoy while visiting our office for dental treatment. Here is a list of how we keep your kids happy!
Our offices are fully decorated for children with the according atmosphere using images of animals, happy painting on the walls and equipments.
Latest collection of children movies to entertain them.
All staff and the doctor wear welcoming and friendly aesthetics to reduce of the awareness of a dentist environment but promotes a welcoming atmosphere.
All staff members are trained to manage behaviors to create a positive dental treatment experience for children.
We have all the necessary equipment for kid's dental needs.
Offices offer Nitrous Oxide plumbing for managing the challenges of mischievous patients
At the time of leaving, we offer all children promotional gifts to promote sustainable hygiene throughout their lives.
Parents are given PARENT'S GUIDE FOR ORAL HYGINE booklet.
Parents will receive Good Parents Award certificate from our offices for bringing their child for dental treatment.
Farzan has Oral Conscious Sedation Certificate for children from California Dental Board Examiners to provide oral conscious sedation for children to perform safe dental practices.
Tell-Show-Do Approach: Our staff works closely with children to teach them hands on how to promote dental longevity and hygiene.
Positive Reinforcement: Rewarding children who display any behavior which is desirable are given compliments, praise, and a pat on the back, a hug or a prize.