Call To Schedule Your Appoitment
(323) 734 – 9600
Se Habla Espanol
Dentures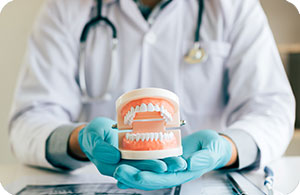 Dentures, also known as false teeth, are often used when a patient has lost most or all of his or her teeth. Tooth loss is common among American adults, and most people over the age of 35 have lost at least one tooth. Rates of tooth loss tend to increase with age. Teeth can be lost to gum disease, severe tooth decay or dental trauma. Once a tooth is lost, replacing it can help restore the function and aesthetics of a smile. Our expert in dentures in LA City Dentist may recommend full or partial dentures if you are missing some or all of your teeth.
Thanks to advances in the field, dentures can be crafted to look quite similar to your own natural teeth. If you are a candidate for dentures, our LA City Dentist dentures expert will begin with a comprehensive evaluation. We may need to take dental X-rays, dental impressions or other records that allow us to see your oral structures in greater detail. These images allow us to manifest precise restorations that fit comfortably and create a beautiful and bright smile.
Dentures
Our expert in dentures in LA City Dentist will check it for fit and appearance. You may need several appointments that allow us to adjust your new dentures for a comfortable fit. Getting comfortable with your new dentures may take some time. Gums and muscles will need to get used to the feel of the dentures and their new jobs in holding your dentures in place. You may need to use extra caution when eating and avoid gum or sticky foods until you become more comfortable.
Good hygiene can keep your new smile healthy longer. Our LA City Dentist dentures expert will provide you with instructions for keeping your dentures clean. You will also need to continue brushing your gums and your tongue to remove plaque and bacteria. The fit of your dentures may change, and they may need readjusting every few years as your smile evolves and changes. Contact our dentist in LA City Dentist today to learn more or to schedule your consultation.