Call To Schedule Your Appoitment
(323) 734 – 9600
Se Habla Espanol
Porcelain Dental Crowns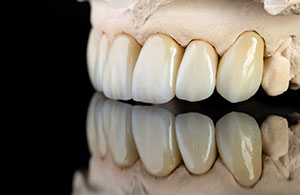 Porcelain dental crowns can be used to strengthen broken teeth and improve the function and overall health of your smile. Our expert in dental crowns in LA County Dentist may recommend a porcelain crown if you have a tooth that has undergone root canal therapy, a tooth that has fractured or a tooth that has suffered severe decay. Crowns can also be used to restore missing teeth. Our expert in porcelain crowns in LA County Dentist can use them to support dental bridges or with dental implants.
Candidates for dental crowns may need two and three dental visits to complete the process. The tooth and surrounding area will be examined to ensure it is free of dental disease. If the tooth has a large cavity near the internal structures or if it has an infection, root canal therapy may need to be performed before the procedure can continue. If you are having a dental implant placed, that procedure will need to be completed before the crown can be placed.
Porcelain Dental Crowns
Dental impressions, dental X-rays and other records may be taken to create an accurate restoration. The tooth will be prepared, which means that our LA County Dentist dental crowns expert will trim and contour the enamel for a perfect fit. The porcelain crown is a tooth-shaped cap that will fit over the tooth to conceal the entire visible structure. It is made of translucent dental porcelain in a shade that is matched closely to your other teeth for a meek, organic-looking restoration.
Once the crown has been crafted, it will be bonded to your tooth using special dental resins and a powerful light that cures them. Crowns can last many years when patients practice good dental habits. Brush twice a day, floss every day and avoid foods and habits that put excessive stress on the crown and other teeth. Our LA County Dentist porcelain crowns expert may provide you with other instructions to maximize the life of your crown.
Contact us today to schedule a consultation with our Cosmetic dentist in LA County Dentist.